Customer Review
Thanks to your support, more and more people are experiencing the happiness of doing business with General Inflatables along with our market is bigger and bigger. We would like to share our customer's happiness with all you.
Mr. Carrier, from USA
Got the Dome today. I must say I am very impressed with the quality! It is better than most of the inflatables I currently have. The colors and print are awesome!
I will highly recommend your company and will definitely order from you again.
Carson from Trinidad and Tobago

Ilze from Cape town,South Africa
Thank you, I have received my jumping castles and they all look GORGEOUS. I will definitely place another order next year and would defiantly recommend your services.
Cavon from Bermuda
We are very satisfied and excited we have taken pictures and will email them to you I look forward to purchase more from u.

Peter from London, UK
Thank you for your cooporation and excellent customer service that you provided! The buoys are very nice as you promissed and your company highly recommended 1st class! Hope we can do bussines in the future.
Amie and Darryl Daamen from Canada
"General Group have been wonderful during our bouncy inflatable purchases. They have great product selections that is unique in every way. That why our family loves them. We have three already and will purchase our next ones from them too. Their service is fast, friendly and they know their products. Their products are durable and easy to set up. We would highly recommend General Group for your next inflatable purchase."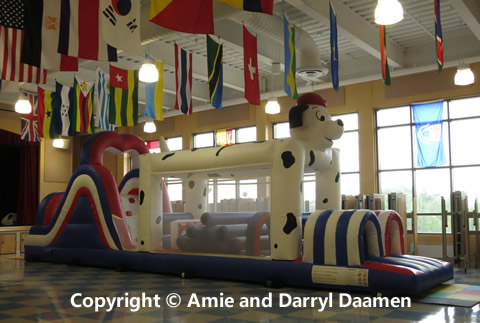 Nicholai from Barbados
I love my products I have received the quality is great and the service is excellent I will continue to do business with this company thank you sooo much.
Joy Jacobs from Lagos Nigeria
'General Inflatable has been a reliable company and have produced beautiful and good quality products for my company for the past 4 years, I give them 5 stars' Joy Jacobs Lagos Nigeria.
Gary from Ontario,Canada
We have now had a chance to look over all 3 bouncers that we purchased and I'd like to tell you that we are very happy with the looks and especially the quality. They have been inspected by our Ontario TSSA inspectors and passed with flying colours. The inspector who did the inspection was very impressed also with the quality of your companies work. We have decided to make your company our exclusive supplier for all future purchases.
Noah from Nashville, USA
Your company General inflatables is very real and I have had no problems with any of your products. I was very nervous when I first ordered from you also but I asked a bunch of people from inflatable insurance companies and they all said that they had heard of you and that they had seen you numerous times at the IAAPA shows. I have a friend that bought from a supposedly US company that "makes better products" and he is already having his repaired after only 3 months of use. I haven't had any problems and will definitely be ordering from you in the future.
●Mike Russack from New York, USA
Thanks for sending me so beautiful shark attack slide, I receive it today, but I can't wait to tell you how happy I am. It's the same as on your website, and the artwork is so excellent. I believe our kids will love it.
●Jack Daniel from Birmingham, UK
I just want to say you help me make money. Many people would rather rent bouncers from me than any other rent company, because the bouncer you make for me is safer than anyone else. You know children's safety is the most important.
●Achim from Halle, Germany
The inflatables have arrived safely and we are very happy with the quality. Everybody has been pleased with the construction. Many thanks and up to the next order.Greetings from Germany.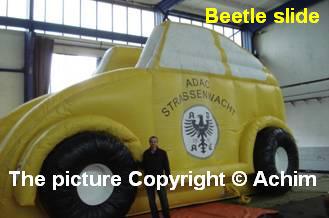 ●Chanda from Lusaka, Zambia
I wish to confirm that we finally received the inflatables that we purchased from your company. All the pieces were in order and the inflatables are excellent. I am very happy with the quality of the inflatables and wish to thank you for ensuring that all my requirements were made on my order. Please keep up the good works and express my gratitude to your team.
●Mike from Cardiff,UK
I purchased a slide from General Group Co., Limited.The way it works was I transferred payment by Bank Transfer on the 26th June 2007 and the product was delivered to Heathrow airport in London on the 09th July 2007.The product was then driven to Cardiff Wales Airport and I picked it up from there in a van on the 11th July, the day of my daughters birthday, so I was pleased that they kept to the deadline we agreed on.I must say that the service I received from General Inflatables was fantastic. They kept me informed of the progress on a regular basis and all that they said would happen did. They even sent me photographs of the product as they were making it.Having had the product delivered I was delighted with the quality of the slide. Everything is perfect. My daughter and her friends have so much fun on it.I strongly recommend them based on the service and quality of the goods.
●Anthony G. Smith from Sydney, Australia
Hi, It's me. I come back again. Just want to tell you that I have been using the castle for six months totally, but the castle still seems very strong now. The color of printing is still very fresh. Unlike my last castle buy from another Chinese company, just used for only 2 hours, then it split a big hole at the bottom. I promise I will buy from you forever, as I really can't bear others' so poor quality. Thank you for all.
●Maria Doyle from NJ, USA
This is really fantastic ball, many people come to play it, they roll and roll again and don't wanna stop. Your zorb ball gives me a rich season.
●Nick Bess from Lagos, Nigeria
I must say it is my most satisfied purchase experience from China. When I see your website's picture, I don't believe your quality. But when I receive it, I know I have made a right choice on buy from you. You have done what you promise to do for me. My technologist has tested your material and he said you used the best material to produce my order. Good quality is very important for me, because I will rent out all the inflatables for many times. So I am really excited when I get your great inflatables. Thank you.
●Chieko Nishimura from Tokyo, Japan
今日荷物が届きうれしかったです。制品はきれいで质もよかったです。近所の子供たちはみんなとても好きなんです
●Pavlova Alfiya from Perm, Russia
I got the inflatable obstacle at the weekend. We are very happy. Thank you very much. The obstacle turned out very nice, everything was done very cleverly and thoroughly thought through. Children are very excited . I hope it will serve us very long, at least 5 years. Thank you again.
It is just a little part of our happy customers above, as we can't list all. Please contact us immediately to begin your happiness and let more people share your happiness.